The Texas Short Stroke
A fully lined holster with a dropped front affording the user a faster, shorter draw stroke. A great holster for those with a need for speed or with range of motion issues. Comes standard with an FBI cant, full sweat shield and your choice of leather and stitch colors. Click HERE to read what one our of customers has to say about the Texas Short Stroke holster.
Starts at $150.00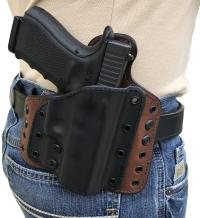 Latest store news
We have finally managed to get the Tucker & Byrd website up and running. We still have a lot of products to add and will be getting to those in the coming weeks. Thank you for visiting our site and we hope to gain your business. May God bless you and yours.